A Message From Omicelo Cares' Founder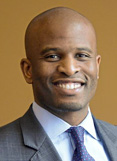 After receiving a nod to the Forbes 30 under 30 list for finance and real estate, I thought I had I my role in the business world figured out. But in a casual conversation in 2012, I was forced to re-evaluate the kind of impact I actually wanted to have in business.
I was with the CEO of a large real estate development company and I was challenged around issues of race. Questions were fired at me in an attempt to understand why more people from tough neighborhoods are not able to pull themselves out of their circumstances in the way that I seemed to have done at that point. I explained the negative impact of lackluster education in the neighborhood I grew up in; I explained the impact of limited mentorship and the pervasiveness of get rich quick schemes that led nowhere for so many. Speaking candidly from personal experience, I thought I had "won" the discussion.
The CEO's response: "If I gave you all the money in my bank accounts, what would you do to change your community?" I stared back at him speechless. I had no credible answer at that time. It was in that moment I had to reexamine my career achievements; that was the catalyst for a multi-year soul searching effort and some diligent research.
In answering that question with action, I founded Omicelo, a for-profit real estate investment company that believes in building Home | Health | Wealth guided by two core values: 1) housing is a social determinant of health; and 2) improving neighborhoods promotes the economic livelihood of community members. I also humbly founded Omicelo Cares, this nonprofit 501(c)(3) whose mission is to grow community members' incomes in low-to-moderate income neighborhoods through specialized real estate education and deep supports for small businesses.
Omicelo Cares believes in the abnormally high returns for our society that result from investing in community members who can make neighborhoods exemplary. The core of Omicelo Cares is an attempt to influence growth in communities that benefits all of society. Omicelo Cares believes wholeheartedly that neighborhoods can improve with the people who already live in them. We will continue to find ways to increase community members' knowledge and incomes so that they can be economically active and participatory in the positive change of their neighborhoods.
If you haven't been asked lately, please consider this: If you had all the resources you ever needed, what would you do to change your community for the good?