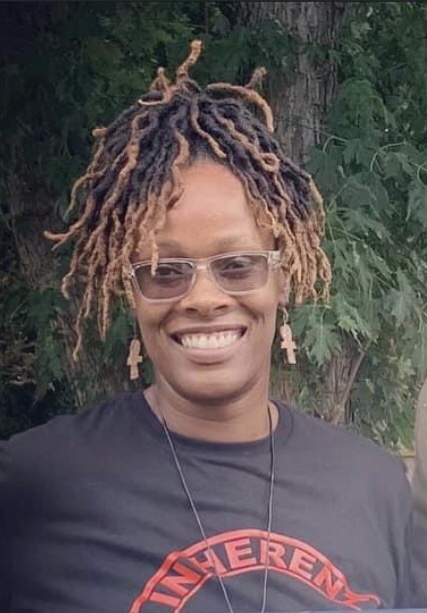 Omicelo Cares has enabled business owners in Pittsburgh communities to grow their business through strategic planning within their 7 Pillars™ of Sustainable Business program. Within this program, participants have the opportunity to focus on seven sectors of their business: strategy, technology, communication, finance, legal, capital, and people.
Ebony Lunsford-Evans recently graduated from the 2021-22 program of 7 Pillars™, concentrating on the financial pillar of her business.
"It's helped me as a business owner learn to focus on the important things in my business and keep an eye on the way things grow in business," she said.
And Lunsford-Evans certainly loves to watch things grow. As an urban farmer and lifelong educator located in the West End of Pittsburgh, Lunsford-Evans has dedicated a good portion of her life to helping things grow: fresh produce, the community members she teaches, and her businesses, Farmer Girl Eb and Out of The End, Incorporated.
Through her participation in Omicelo Cares' 7 Pillars™ program, Lunsford-Evans had the opportunity to work with attorneys and create a consignment agreement for her business, Farmer Girl Eb. Before she completed this program, her consignment agreement created a 100% increase in entrepreneurial partnerships for her produce store.
The 7 Pillars™ Process: Growing Her Business
Through the 7 Pillars™ of Sustainable Business program, Omicelo Cares came alongside Lunsford-Evans to help her build her strategic plan. Her plan outlined her personal and financial goals in a yearly structure. Omicelo Cares' employees were able to support her by helping her to create a clear focus on where she was headed. As a result, this strategic plan produced tangible results.
With the guidance of Omicelo Cares, Lunsford-Evans increased her entrepreneurial partnerships by 100% before completing the 7 Pillars program.
During the program, Lunsford-Evans felt respected for who she was in her creativity. She said that the Omicelo Cares Staff supported and guided her by listening to her goals and recognizing her strengths. This support enabled her to successfully develop her business into what she truly wanted it to be.
Impacting Her Community Through Growing Plants
Lunsford-Evans began her business pursuit with a desire to educate others. After teaching in the public school, she utilized her skills as an educator to build her business in urban farming and agricultural education.
She began by renovating an "eye-sore" of a vacant lot into a beautifully lush urban farm. She now owns two urban farms, one in the West End and the other in the North Side. These farms supply her corner produce store, Farmer Girl Eb, along with other entrepreneurs she partners with.
"We grow fresh produce there on both lots," Lunsford-Evens said. "They're both teaching sites for the community to come and learn to grow and sustain fresh food that we grow right in the ground."
With these resources, she has impacted her community in many ways. Through her non-profit organization, Out of the End, Inc., she has educated community members on how to sustain and grow food from seed, harvest produces, build a relationship with the land, understand soil health, scale and distribute food, and understand herbal medicines.
"We have farmers from 3 years old all the way up to 83 years old," she said about her students within the community.
Lunsford-Evans explained how the ability to grow and sustain food decreases the social determinants of health, saying, "Now that a lot of people are becoming more aware of how to have a relationship with their land, grow food, and eat healthier, negative impacts on the social determinants of health are decreasing. People are not having the illnesses that they were experiencing."
She is passionate about educating her community on the importance of eating healthy because of how it can impact their overall health issues.
"I've had to literally tell the community, 'I'm not a doctor,'" she said. "But I've had people literally be healed from just eating right and creating medicine from the land."
The 7 Pillars™ of Sustainable Business program empowers business owners to create clear goals and achieve substantial results. This program unites business owners passionate about their communities with our experts at Omicelo Cares, who strive to co-power community members to own financial assets, grow their business, and increase their income.
Lunsford-Evans was able to take part in this program and watch not only her business grow but also the communities she is serving. Her desire to benefit her community overflows into her work as she strives to make fresh food available for the community as a whole.
Learn more about how the 7 Pillars™ of Sustainable Business program can help you impact your community through business growth.