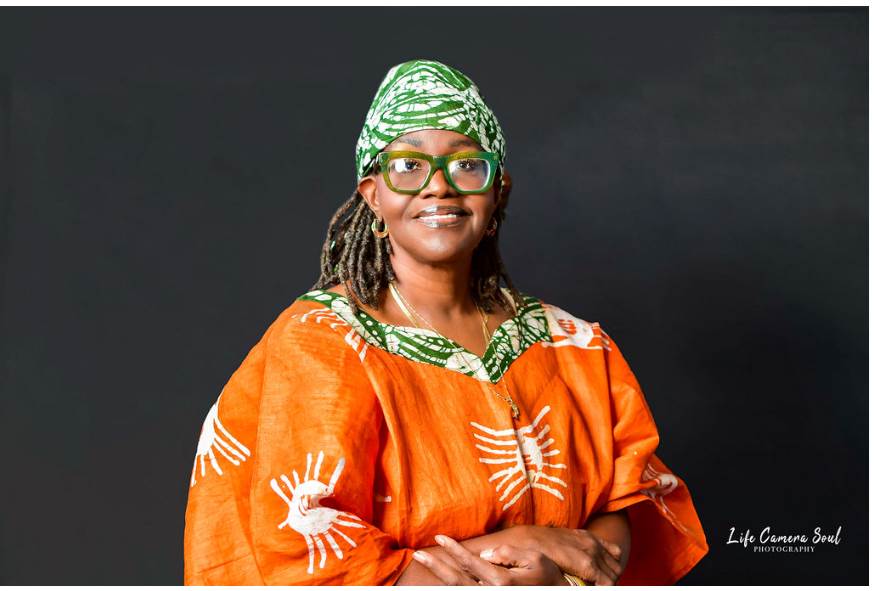 Lisa Freeman's first interaction with Omicelo Cares was through their partner, Neighborhood Allies. Together these two organizations created the Real Estate Co-powerment Series, a program that would steer Freeman to unique education and $475,000 for her farm and greenhouse in the Manchester section of Pittsburgh.
Freeman, the owner of Freeman Family Farm and Greenhouse and a graduate of the Real Estate Co-powerment Series, said that the education she received through Omicelo Cares helped her succeed because it was an essential part of her foundation.
"[Freeman Family Farm and Greenhouse has] grown because [Omicelo Cares is] part of my foundation," she said. "It will always be."
The course helped her develop a plan in the visionary stage of her business by gaining a fundamental understanding of the ins and outs of how developers work.
Freeman took Omicelo Cares' Real Estate Co-powerment Series with two intentions:
To obtain a more in-depth understanding of real estate.
To further understand gentrification and if it could somehow be good for her community.
While her education in community organizing gave her what she calls a "peripheral view" of real estate, it didn't entirely give her the expansive knowledge developers have. And that's what she was looking for.
"Omicelo Cares was the forefront in helping me understand real estate, and now I understand who the players are and how [I] can be the player," Freeman said.
Through this course, she gained the foundation, knowledge, and courage she needed to build on her property and purchase more land. She is currently in the process of buying various properties with vacant homes with the intention of renovating them for better use and building back up that specific block, one property at a time.
A Driving Desire to Care for Her Community
With two master's degrees — one in social work and one in public administration — Freeman has a clear desire to impact her community. As a matter of fact, her major focus was on community organizing and community building. And this motivation to improve her neighborhood is seen clearly throughout all her work experience.
Her first initiative upon moving to Pittsburgh was the formation of a school community garden. It was created to teach kids compassion and how to care and nurture for something other than themselves when they live in such a violent world. "The garden was meant to grow people," Freeman said.
Out of this initiative came the birth of her business: Freeman Family Farm and Greenhouse. Located in the historic district of Manchester, Freeman Family Farm and Greenhouse strives to bring together the community by bridging ethnic, gender, or age gaps.
Growth, Nurture, and Impact
"We are all the same when we are playing in the dirt," Freeman said.
Freeman Family Farms intends to help people because a farmer's primary purpose is to ensure that their community is fed and cared for. "We grow for the marginal residents, the medically vulnerable residents, and the elderly."
Freeman's farm does not operate as a typical business; instead, they grow and give away through free marketplaces hosted by the Greater Pittsburgh Community Foodbank.
More than growing food for the community, Freeman Family Farms and Greenhouse also offers individuals a safe space. These people can come to the farm and rest and meditate, turning off all the voices in their heads, while they help with farm tasks such as weeding.
"You can hear the birds, the crickets, the bees, the smells, the sights, and it's just you and me," she said. "And if there's something you want to share or something I can offer you, a resource, then that's what we do."
Omicelo Cares helped Freeman expand her farm in numerous ways. Three years after graduation, she is now able to begin building greengrocers. The farm has received $300,000 in assistance from the USDA that will be able to support Freeman Family Farm and its mission. They have also received $175,000 to assist in building a greengrocer farmers market for the community.
Since taking the course, Freeman has received funding from USDA, The Food Trust, the PA Department of Agriculture, the Alleghany County Health Department, and others.
Omicelo Cares Real Estate Educators Growing You
Freeman emphasized that the class is for anyone who wants to learn more about real estate and make a change in their community.
"It was a broad range of people who participated," she said. Participants can be individuals like herself or from housing agencies, the government, the CDC, or anywhere else. Registration is open to everyone.
"Anybody in their community who wants to make a change can be the change, and Omicelo Cares gave me the skills to know how to be that changemaker," she said.Learn more about Omicelo Cares' Real Estate Co-powerment series and how you can make a change for the better in your community.